Changelog
Updates and improvements to Cevoid.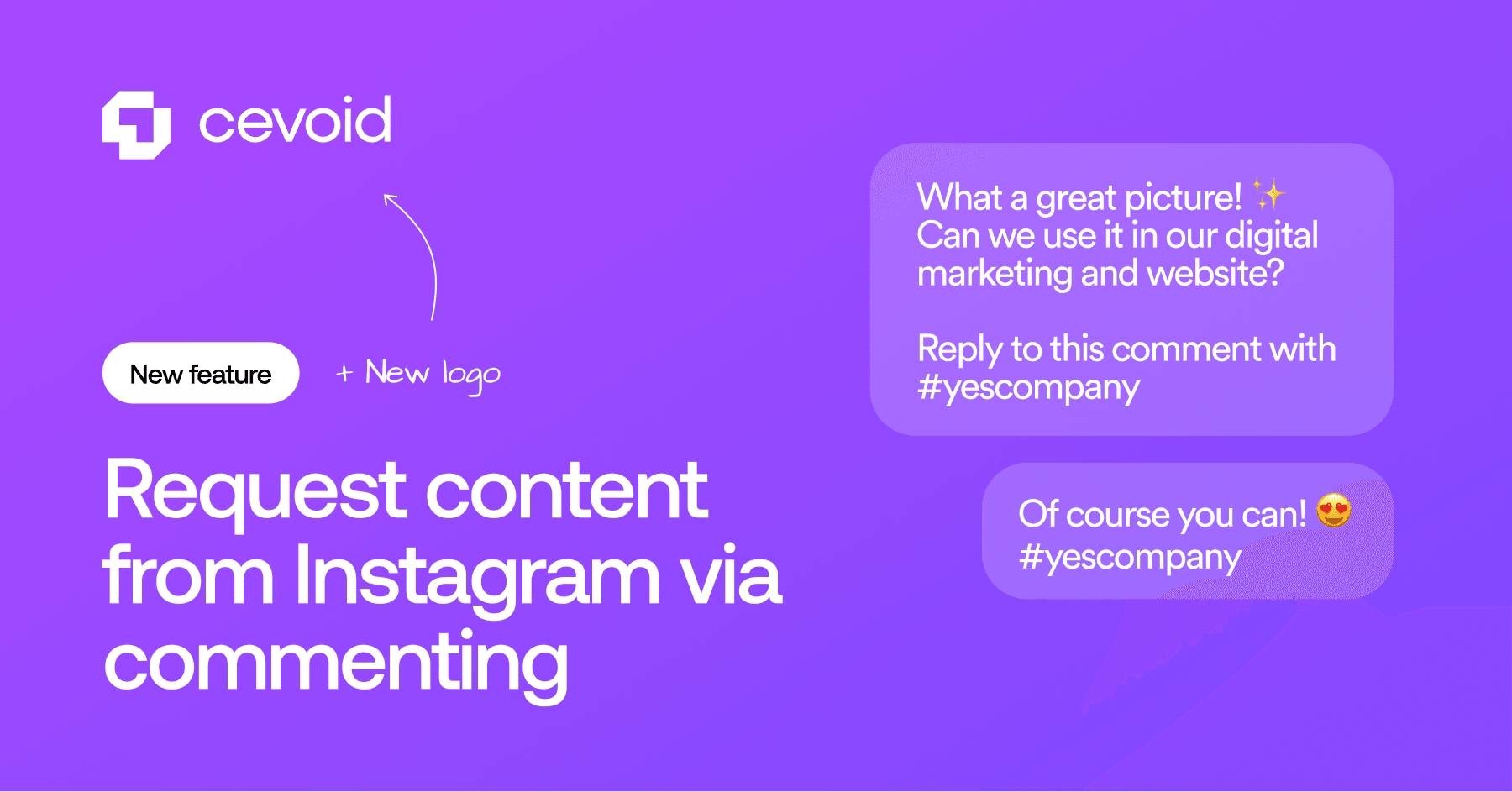 Instagram request by comment
This week we added another option for users to request Instagram posts. You can now request posts via comment and DM (as before). Another nice feature is that posts that have been found through mentions can automatically be requested from our platform. No need to navigate to Instagram and paste your comment.
New logo
We are also very excited to announce that we have a new logo!
Amazing work done by https://dribbble.com/vask 🔥
Fixes and improvements
Fix bug that prevented some users from adding new languages

"Get in touch" button on https://cevoid.betteruptime.com/ now works

Made more fields searchable in our product search

Fix format bug in markets domain

Add possibility to add new workspace (in account dropdown)

Possible to request Instagram posts by comment

Fix bug on Instagram explore page that showed errors for some users when requesting a post

Bugg with styling for gallery products in Filter popup

Remove "leave a review" in getting started for non-shopify stores

Fix bug that prevented the post popup to close for some users

Change text: "Guideline for terms of service"

Move descriptions on Instagram settings page
Product tag no longer shows a cursor if it's not clickable
Deleted hashtags are no longer visible in filters when there are no posts for that hashtag
Added setting to turn on / off auto-approval for Instagram feed
You should no longer be presented with a confirm modal when subscribing to a plan for the first time.
Remove logo option in Thank you email settings
Fix bug where tagged product overview sometimes showed a higher count than what actually was tagged.
Show all pricing as monthly by default
Connect Instagram on the dashboard now works as intended
The getting started experience should now be better for users with smaller screens
Show Instagram reconnect modal if an error was encountered with the connection
Add Instagram auto-approve posts to Onboarding
Add a date selector to select how far back you want to import Instagram posts from
Fix bug where videos in gallery builder become larger than it is in the normal feed
Copy to workspace bulk, only available and visible if you have multiple workspaces on your account
Disabling upload button in Collage gallery should now behave as expected
Fix bug where some product photos showed as broken images (Shopify only)

Posts from Instagram now shows the correct username in the platform

Posts counter on Instagram page (integrations) now shows correct count